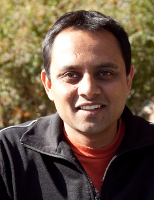 Postdoctoral Fellow
mohan.malleshaiah at gmail.com
Biological functions arise as a result of the 'flow of information' through networks of interacting components. Elucidating and understanding the dynamics of key components thus enables control of information flow and response outputs including higher order phenomena such as cell-fate decisions and resulting cell structure transitions (Hartwell, Nature 1999; Nurse P., Nature, 2008). To explore the dynamics of such decision-determining component interactions in Saccharomyces cerevisiae, during my graduate studies at Prof. Michnick's lab, at the University of Montreal, we developed Protein fragment Complementation Assays (PCA) based on fluorescence and luminescence assays (Malleshaiah M. et al., PLoS ONE 2008; Michnick S. et al., Methods Enzymol. 2010). These assays allowed us to measure the in-vivo dynamics of protein-protein interactions. As a result, we could describe a central mechanism for the 'switch-like' yeast mating response (Malleshaiah M. et al., Nature 2010) and its sensitivity to availability of carbon-source nutrients (Stefan E., Malleshaiah M., et al., Nature Communications 2011).
I continue my quest for cell-fate decision mechanisms, but this time with Embryonic Stem Cells model, as a joint post-doc between Prof. Jeremy Gunawardena (Department of Systems Biology, Harvard University), Prof. Alfonso Martinez-Arias (Department of Genetics, Cambridge University) and Prof. Anna-Katerina Hadjantonakis (Memorial Sloan-Kettering Cancer Center, New York). I am interested in both experimental and computational approaches to elucidate the underlying molecular mechanisms of cellular decisions.
I also like art and theme oriented photography. You can have a glimpse of my pictures at mohanm.wix.com/auras-vision.
last updated on 23 August 2012