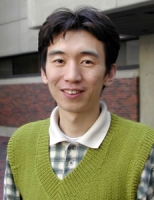 Postdoctoral Fellow
yangqing_xu at hms.harvard.edu
I have broad interdisciplinary backgrounds in both biological science and engineering. With an undergraduate degree in hydraulic engineering, some of my former classmates built the Three Gorges Dam on the Yangtze River, one of the largest hydraulic constructions in the world. As the odd one out among my classmates, I developed interests in the flow inside a heart, rather than that inside a turbine. I therefore first did a Masters in bio-fluid mechanics. After focusing on biotechnology development during my PhD (in Biomedical Engineering), I joined the current laboratory and began my career in systems biology. My current research focuses on the study of complex dynamics of biological networks using a combination of quantitative imaging, cell biology and mathematical modeling. The measured dynamics leads to mathematical models for the structure and the regulation of the network, which can be iteratively tested by experiments. I apply this interdisciplinary systems biology approach to investigate information processing and decision making in growth factor signaling and autophagy cell death in mammalian cells.
I always picture a cell as a country with various factories and heavy traffic on the connecting roads, and it has been a joyful trip in such a lively world watching the constructions, transportations and battles in it. As a systems biologist, I am repeatedly amazed how a cell coordinates so many activities and functions as an integrated and self-organized kingdom, yet without a king. Looking back over the last decade, the scale of my research shrank from kilometers to nanometers, but with a dramatic increase of complexity in the system. I find it truly fascinating.
last updated on 21 December 2008