Virtual Cell Program
Home / People
in the news
2023. Lecture video on on Cell learning: a new paradigm for biology at the 2023 UCLA Luskin Endowment for Thought Leadership Symposium on Pushing the Boundaries: Neurocience, Cognition and Life.
2022. Plenary public lecture on Topology and genes at the 2022 Global Korean Mathematical Society International Conference.
2020. Lecture video on Thermodynamic limits in cellular information processing, at the programme on Statistical Biological Physics: From Single Molecule to Cell, held at ICTS, TIFR, Bengaluru, India.
2020. Lecture video on Hopfield barriers: the interplay of mathematics and physics in molecular biology, at the SIAM Conference on the Life Sciences 2020 (LS20), 11 June - 2 July, 2020.
2019. Lecture video on Beyond Big Data and Big Models: the role of abstraction in biology at the Workshop on Data, Knowledge and Genomic Causality, Ben-Gurion University, Dec 2019.
2019. Interview about our paper on avoidance behaviours in Stentor roeseli; and some comments on its implications.
2019. Lecture video on Some mathematical aspects of gene regulation at the SIAM Conference on Applied Algebraic Geometry, Bern, July 2019.
2018. Photographs from the School on "A Systems Approach to Biology" at the University of Buenos Aires in June 2018. Jeremy's lectures are here.
2017. Harvard Medicine Magazine has an Autumn 2017 feature on computational tools for analysing natural languages, which highlights other work of Joseph Dexter and Ben Gyori.
2015. Photographs from the Slow Science talk at Bioquant in Heidelberg on 27 May 2015.
group photographs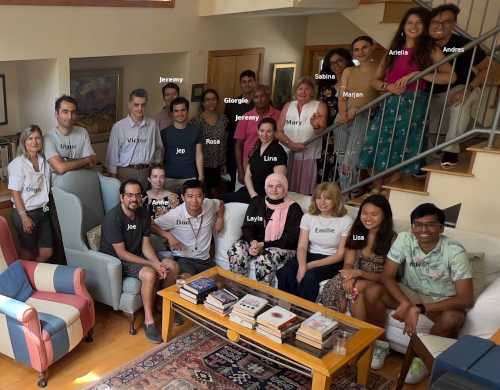 brunch, 17 July 2022, at Mary & Jeremy's, photo set up by Andres Florez
together again after 2 years!
previous years
Alexander Barabanschikov



Research associate
abarabanschikov at yahoo.com

My background is in theoretical physics, in particular, string theory. Having completed my Ph.D. at Northeastern University in 2004, I decided to move to biology and try to apply theoretical and computational methods to investigate some of the fascinating mechanisms of the functioning of the cell. At the molecular level I had experience in modeling and spectroscopic studies of active sites of (mostly heme) proteins. Numerous studies of theoretical models and chemical model compounds help to identify the reactive motions in the molecule that drive processes like ligand binding or dissociation. At the systems level one is immediately faced with the complexity of reaction networks and the extremely large number of difficult to measure parameters. Currently, I am investigating a certain class of reaction networks arising in post-translational modification with the purpose of finding biologically-important characteristics of these networks that are largely independent of the parameters (such as rate constants). I teach at the Moscow Institute of Physics and Technology and visit Boston regularly.

last updated on 10 October 2012
Ugur Cetiner



Postdoctoral fellow
cetiner dot ugur at gmail.com

I am a biophysicist with a wide range of interests varying from osmotic fitness of bacteria to stochastic processes to non-equilibrium statistical physics. I graduated from Bogazici University with a B.A. in Physics and received my PhD degree in Biophysics from University of Maryland, College Park where I worked with Professor Sergei Sukharev on the nanoscale thermodynamics of mechanosensitive ion channels.

One of the most fundamental differences between bacterial and eukaryotic gene regulation is energy expenditure. While equilibrium thermodynamics successfully describes the events that take place during bacterial gene regulation, the existence of highly dissipative processes begs the question of whether the equilibrium formalism could describe the enormous molecular complexity in eukaryotic gene regulation. In the Gunawardena Lab, I will develop the theoretical framework and design experiments to check whether or not gene regulatory systems are operating away from equilibrium.

last updated on 19 September 2018
Varsha Chari



UG research student
postbac research student
vchari2 at illinois.edu

I am a junior from the University of Illinois at Urbana-Champaign studying Chemistry with minors in Statistics and Mathematics. My research work currently lies in computational biology. I have previously worked on projects in which I develop computational pipelines in different programming languages to process data from spatial transcriptomics technology. As a 2021 summer intern, I will be working with Rosa Martinez-Corral in exploring multi-input gene regulation functions from a theoretical standpoint. I hope to pursue an MD/PhD and am particularly interested in applying mathematical modeling techniques towards answering large scale biological questions and improving medical diagnostics.

last updated on 7 June 2021
David Croll



Sabbatical visitor
david.croll at regiscollege.edu

My involvement as a visitor to the Gunawardena group stems from my interest in biochemical reaction networks, especially metabolic pathways. I am building metabolic models in little b, with the goal of understanding the dynamic complexity of metabolism. I am also interested in the development of little b to provide a feature-rich language that will allow biological modelers to express biophysical and regulatory features of enzymes in a natural and convenient fashion.

In graduate school at Purdue University I studied theoretical chemical physics and biophysical chemistry, doing my Ph.D. dissertation research in the group of John Markley, where I used multi-nuclear/multi-dimensional NMR techniques to study the physical chemistry of the ovomucoids, a family of protein-proteinase inhibitors. This was followed by a postdoc at the Biophysics Institute at the Boston University School of Medicine, where I used NMR spectroscopy and computation to study lipoprotein dynamics and biophysical properties.

As a faculty member at Regis College, I have supervised model-oriented undergraduate research projects in biochemistry. I have also been involved in metabolically oriented research projects at Tufts University, including the modeling and measurement of whole body cholesterol metabolism.

last updated on 21 December 2008
Marjan Faizi



Postdoctoral fellow
marjan_faizi at hms.harvard.edu

I am a computational biologist interested in developing tools and mathematical models to make sense out of experimental data. I have completed my bachelor's and master's degree in bioinformatics and expanded my training in computational systems biology during my PhD.

Currently, I am working with mass spectrometry data of the tumour suppressor protein p53. I am interested in the protein's post-translational modifications (PTM) and the global patterns that can arise by different combinations of various PTM types. I am developing computational methods for analysing mass spectrometry data with the focus on global PTM patterns, or modforms, in order to gain insights into cellular information processing and cell fate decisions, using the example of p53.

last updated on 7 June 2021
Tahira Fitzherbert



Bertie


I am an undergraduate researcher in the Gunawardena lab. I am working on the problem of finite reservoirs with Ugur Cetiner. Specifically, the nature of ligand binding on a specific binding site when the total amount of ligand in the reservoir is a finite value. We are investigating the problem from both deterministic and stochastic perspectives.

last updated on 31 July 2023
Jeremy Gunawardena



Associate Professor of Systems Biology
(617) 432 4839
jeremy at hms.harvard.edu

I used to be a very pure mathematician, an algebraic topologist, but fell from grace some years ago (to borrow Marc Kac's gracious way of putting it) when I was a Dickson Instructor in the Mathematics Department at the University of Chicago. I volunteered to teach computer science, which made me interested in complexity, which eventually led to a long stint in industrial research at HP (Hewlett-Packard) Labs, where I ran part of the company's "blue skies" research programme. Post-genome systems biology brought complexity to centre stage and brought me to Harvard.

Our focus in the group is on information processing in mammalian cells. In what sense can cellular processes be considered to "process" information? What kind of information is it and how do we measure it? How are information processing tasks implemented by the molecular mechanisms within cells? What systematic methodologies are needed for attacking such problems and how do we develop them? We approach these questions through a combination of experiment, theory and computation.

last updated on 8 August 2012
Sabina Haque



PhD student
sabina_haque at fas.harvard.edu

A mathematician by training, I am broadly compelled to explain the cell with pure and applied math. Currently, I am a 6th year Systems Biology PhD candidate at Harvard University advised by Dr. Jeremy Gunawardena. My doctoral research has been focused on using discrete mathematics, mainly graph theory and Markov processes, to model steady-state behavior in biochemical networks. In particular, I have been focused on characterizing theoretical signatures of non-equilibrium steady states, which can be used to identify departure from thermodynamic equilibrium in cellular information processing contexts. I have also been interested in expanding the mathematical foundations of the Gunawardena lab's modeling approach, which has allowed me to explore more theoretical research questions using graph theory, applied linear algebra, spectral analysis, Markov processes, Riemannian geometry, algebraic topology, combinatorics, and category theory. In collaboration with Dr. Polly Yu at the Harvard NSF-Simons QBio Center, I have also done work in chemical reaction network theory, a mathematical field that models chemical reactions using graph theory and often involves techniques from algebraic geometry.

last updated on 19 July 2023
Dan Lu



Postdoctoral fellow
dan_lu at hms.harvard.edu

I completed my PhD in Biochemistry in 2016 at the University of Cambridge working in Gerard Evan's lab. Cancer therapies rely on targeting vulnerabilities in tumour cells that are not present in normal physiological cells. Systemic inhibition of the MYC transcription factor was shown to specific kill tumour cells, but not normal proliferating tissues, establishing a clear therapeutic window. My PhD project was therefore to identify the causal mechanisms of tumour cell death focusing on perturbations of the metabolic and apoptotic pathways.

Currently in the Gunawardena group in collaboration with Galit Lahav's lab, my research project revolves around the transcription factor, p53. The aim is to functionally attribute the roles of post-translational alterations on the p53 protein following stress induction to the subsequent cell fate. The benefits in qualitatively and quantitatively decoding dynamic cell signals are invaluable both in enhancing existing cancer therapies as well as understanding evolutionary and developmental processes.

last updated on 1 September 2016
Shubang Nagalotimath



UG researcher


I am currently a medical student at the University of Cambridge in the UK. I completed my undergraduate studies in Physiology, Development and Neuroscience (PDN 2023) with a focus on cell and systems physiology. As a summer intern, I will be collaborating with Dan Lu on a project to explore post translational modification as memory stores in cellular learning.

last updated on 16 July 2023
Joseph Nasser



Postdoctoral fellow
Joseph_Nasser at hms.harvard.edu

I started my academic career in mathematics and have since transitioned to think more about biological systems. I'm fascinated that organisms are able to function as they do even in the face of numerous obstacles such as external perturbations and the inherent stochasticity of molecular environments.

I was previously a staff scientist at the Broad Institute where I worked on studying the role of enhancers in gene regulation with applications to human genetics. I am looking to continue more theoretical exploration of enhancers in the lab. I'm also broadly interested in the role of modelling and theory in biology and will look to apply such approaches to other biological systems.

last updated on 24 May 2022
Carrie Vanty



UG research student

I am majoring in Mathematics at Middlebury College, and will be graduating this winter. Previously, my research has been in dynamical systems with applications in neuroscience and machine learning. As a research intern this summer, I am working on expanding the lab's prior work on kinetic proofreading using the linear framework. Post graduation, I plan to attend a PhD program and continue to study mathematical biology or neuroscience.

last updated on 6 July 2023
Felix Wong



Research collaborator
fwong at college.harvard.edu

I graduated from Harvard College with an A.B. degree in mathematics and an S.M. degree in computer science in 2014. I am currently a fifth-year Ph.D. student in Harvard's applied physics program, advised by Ariel Amir and supported by the NSF Graduate Research Fellowship. I have been working with Jeremy's lab since I was an undergraduate and am interested in the "linear framework" and its applications to biological information processing and non-equilibrium statistical mechanics (PMIDs 25475875 and 27368104). My personal website is here.

last updated on 13 June 2018